Reishu is cold sake with a sharp taste and refreshing so many people want to drink it in hot season.
What kind of glass do you use for Reishu?
Now that you drink delicious Reishu, you should be particular about the glass.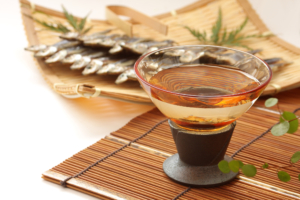 And if possible, it would be 'iki (cool)'  to use the glass set to feel Japanese peculiar culture.
I will show you the best glasses to have not only the taste of Reish but also to feel cool (cold and comfortable) when you see them.
Sizzle Sake Set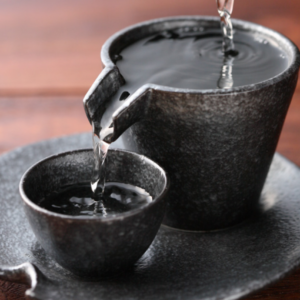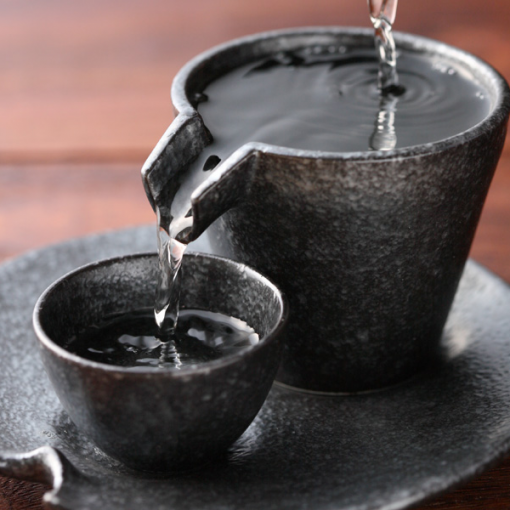 http://shop.sake-talk.com/product/sizzle-sake-set/
This is sake cup set to feel Japanese-like so much and to have lots of fun.
The name of 'Sizzle' is Yamato kotoba (the ancient Japanese language) which indicates the state of water dripping.
As this word, you can enjoy the state of Reishu dripping into Guinomi from the big sake server.
The saucer is the one to catch Reishu that is overflown from the sake cup so you can pour as much as Reishu you like.
It seems to be proud of them during you enjoy the quiet adult atmosphere and also in a big party.
The material is porcelain so this sake cup can keep the temperature of sake well.
If you want to drink the cooler sake, you should make the sake cup cool before drinking.
Glass Sake Set Ice Pocket Blue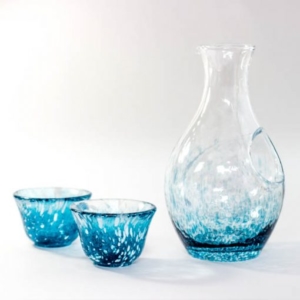 http://shop.sake-talk.com/product/glass-sake-set-ice-pocket-blue/
This is a sake cup set made of the thicker glass which is well in your palm.
You feel cool during just staring it and you can actually keep the temperature of Reishu cool by 'Ice Pocket'  for a long time.
You can enjoy sake slowly for a long time without diluting by melting ice because this cup keeps sake cool from outside.
This set includes tokkuri with a pale gradation and 2 ochoko cups.
You can get this set for you of course, but why don't you give this set to your precious person as a gift with your recommend sake?
Kikichoko Glass FLAVOR and AROMA Comparison Set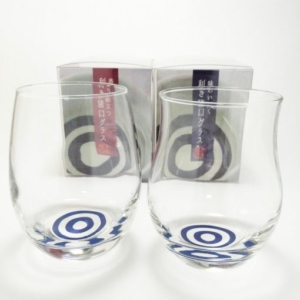 http://shop.sake-talk.com/product/kikichoko-glass-flavor-aroma/
The elegant dry taste of sake is a good partner when you are relaxing your slow time,
on the other hand, you may drink when you are hanging out as well.
In such a scene, I recommend this glass.
You can pour so much sake all at once that you might use these glasses casually with meals during all of you enjoy chatting.
Originally, this is used for checking the aroma and taste as wine sommeliers do,
and it was made from porcelain. But nowadays, because of its usability,   it is used for a sake glass you usually enjoy.
It has made of glass so you might be able to enjoy the softness of sake by staring with your eyes, too.
This trumpet shape is the best to keep sake little by little,
even the size is big. This shape is the best for you because it allows you not to drink sake too much and not to have a hangover.
Usuhari Daiginjo Sake Glass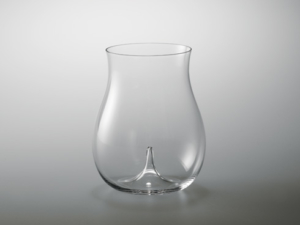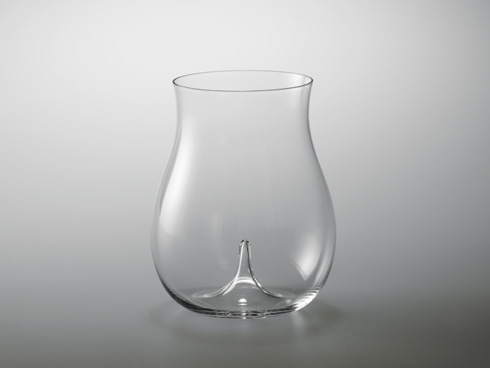 http://shop.sake-talk.com/product/usuhari-daiginjo-sake-glass/
I really want sake lovers and Japanese culture lovers to touch this glass.
This is made of super-thin glass as the name of Usuhari, and even if you hold it, you can hardly feel its weight.
Only pro manufacturer with pro technique can create such thinner glass and only hand-making manufacturer can create such inward-protuberance at the bottom.
The glass made of super-thin glass hardly allows you to feel uneasy if you put the glass to your lips.
In addition, when you just move the glass around, the mellow smell of Ginjoshu comes out tenderly.
This is certainly a glass for Ginjoshu. This might be the best gift for a sake lover.
Kutani Ware Sake Set Silver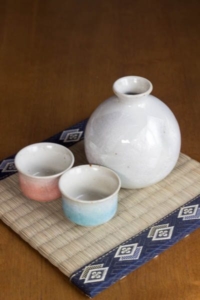 http://shop.sake-talk.com/product/kutani-ware-sake-set-silver/
This is Kutani Ware sake cup set made mostly in Ishikawa prefecture.
The server looks round, and the color of each cup is colored light and cute; I can say this is utility sake set for both Reish and Atsukan.
The soft and simple color seems to be good porcelain for Atsukan but it is hardly affected by the change of temperature.
When you pour firm cold Reishu, this sake cup keeps the change of temperature to minimum effectively.
In addition, The Kutani Ware sake cups here are colored pink and blue each.
It might be the best sake set for a married couple to spend the sweet time together.
I think this is the best gift on your parents' wedding anniversary.
Cold Sake Set bamboo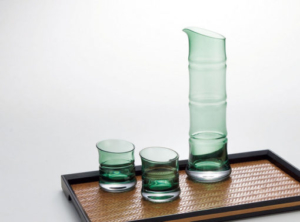 http://shop.sake-talk.com/product/cold-sake-set-bamboo/
In order to enjoy sake, it is so important to select sake by the taste,
of course, by the aroma, and also how much you can enjoy by the sense of sight is also important.
The best sake set just as you can enjoy by the sense of sight is Cold Sake Set bamboo here.
The image of this sake set is a slightly pale green bamboo.
The product that is made of clear glass and the daring design that you will hardly find in others seem to change your drinking time to the special time.
In Japanese culture, there are real bamboo sake cups.
They are very fine sake set in good design, of course, and also you can enjoy the fragrant bamboo; on the other hand,
the care is difficult. On that point, the care of Cold Sake Set bamboo here is easy and you can enjoy it for a longer time,
instead you cannot enjoy a good smell. The quality of design is so high that it is really good for a gift.
Edo Kiriko Sake Set Akio Kimura Design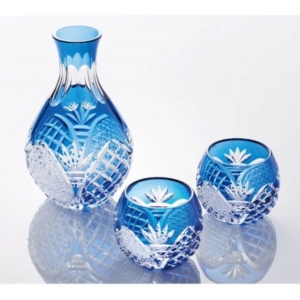 http://shop.sake-talk.com/product/edo-kiriko-sake-set-akio-kimura-design/
This is Sake Set with attractive beautiful patterns, Edo Kiriko.
Edo Kiriko is a glass craft product which has been made in Tokyo at present since the end of Edo era.
This has been designated as a traditional craft product; Nowadays 'KAGAMI CRYSTAL' produces Edo Kiriko,
originally designed by Akio Kimura who is a traditional craftsman.
Akio Kimura is a craftsman who had worked seriously and stuck to Edo Kiriko as he received 'Medal with Yellow Ribbon,'
to be awarded to 'the individuals who are diligent in works and are models for the people.'
Edo Kiriko designed by Akio Kimura is very beautiful like jewelry;
which is used not only Japan embassies or consulates all over the world but also at dinner parties with national guests such as the royal families and presidents/premiers of foreign countries.
Why don't you get that beauty in your hand?
Cold Sake Set Fuji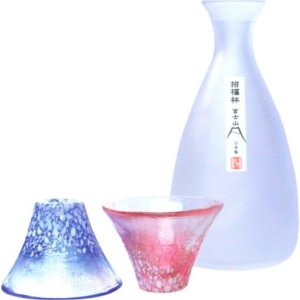 http://shop.sake-talk.com/product/cold-sake-set-fuji/
This is high quality design Sake Set with Mt. Fuji motif. TOYO-SASAKI GLASS Co., Ltd.,
which produces various glasses for each sake and takes Japanese culture precious.
And, Mt. Fuji is not only High Mountain for Japanese.
Ichi Fuji, ni taka, san nasubi (The first is Mt. Fuji, the second is hawks, and the third is eggplants.) indicates a ranking of a first good luck dream in a year;
Mt. Fuji is on the first prize. It definitely proves Mt. Fuji is so lucky.
Sake cup with good luck Mt. Fuji motif is really good for using on some celebrations.
The white spots on the surface of the top when you invert a glass show an image of the clouds covered with Mt. Fuji.
The color of blue and pink to share between man and woman show each image of usual Mt. Fuji and Red Fuji colored by the evening sun.
Brown Pottery Cold Sake Set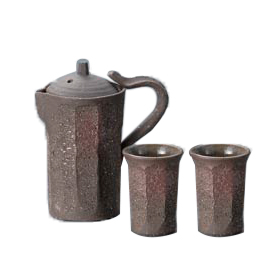 http://shop.sake-talk.com/product/brown-pottery-cold-sake-set/
This Mino Ware cold sake cup looks simple and even rough.
This is a peculiar texture to rough porcelain fits in your hand, and makes you feel that it is must-have sake cup.
You can pour the best amount of sake into your throat with this Guinomi like a tall and thin cup.
This is a simple sake cup which you can taste of delicious sake little by little as feeling the slow-flowing time.
In addition, the design looks like the atmosphere of different countries from Japan somehow.
I can say it is a design to make you feel not Japan's good old days but old good atmosphere in Meiji or Taisho era.
When the different culture had come at that time,
Japanese people had never taken out but taken the good advantages in, and harmonized them into Japanese own culture.
Is this a sake cup to feel the atmosphere which is harmonized such a culture?
Cold Sake Set Gold Foil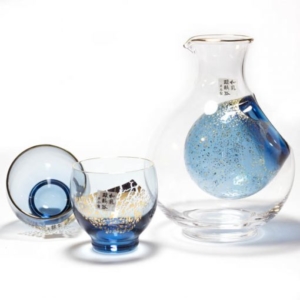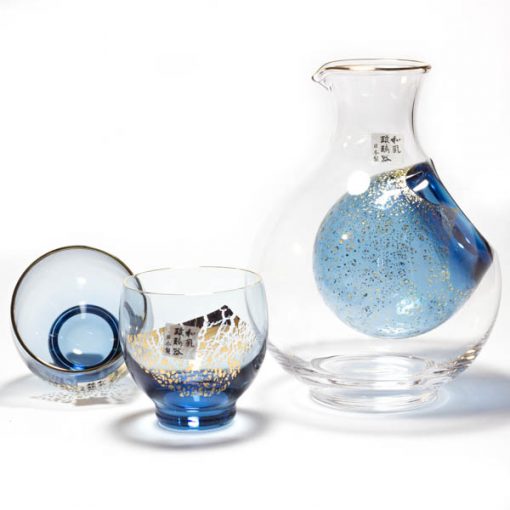 http://shop.sake-talk.com/product/cold-sake-set-gold-foil/
This is sake cup set with an ice pocket; if you like to drink sake for a long time as it keeps cool, I recommend this set.
As well as sake set I showed you above,
sake does not attach to ice directly so you can enjoy sake without diluting for a long time.
This Sake cup set made of beautiful delicate glass and colored by cool blue and gorgeous kimmpaku (Gold Foil) makes sake more delicious.
Each item is hand made by the craftsmen. Therefore, each design is different.
But to put it the other way around, that is a good point, isn't it?
If the sake cup set has a small difference by each product, you might be convinced that this is your own sake cup set.
The design is vivid so this is also really good for a gift.