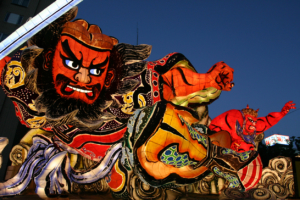 Sake drinking vessels made of glass have received attention.
There is increasing the number of Sake lover who is particular about having Sake with the Sake drinking vessel made of glass which contrasts well with the beauty of Sake that it can be seen just a fresh and clear liquids.
This time, we would like to explain about the "Tsugaru Biidoro" produced by Tsugaru Peninsula in Aomori Prefecture,
the northernmost tip of Honshu of Japan. And we will also introduce you some of selected Tsugaru Biidoro glass to be able to enjoy sake more deliciously.
◆ A history of Tsugaru Biidoro produced by Aomori where the Japanese Sake is to be.
Aomori which locates at the northernmost tip of Honshu in Japan is a region with a lot of snow that famous for its heavy snowfall in winter.
A complicated climatic condition of the straits and the mountains including the world natural heritage "Shirakami Mountains",
where is abundant of good quality of rice and water so that it is also said the place of Japanese Sake.
A unique glass culture of Tsugaru was born in 1949 in Tsugaru where locates at peninsula in the western part of Aomori.
The production of Tsugaru biidoro began at the beginning of the manufacture of glass float (Ukidama) for fisheries.
It can be said that the fact that Tsugaru Peninsula was a region with full of thriving fishery brought successful to the idea.
Today, Hokuyo glass which is representative of Tsugaru Biidoro is first in this business and produces an excellent craftworker maintaining the history of Tsugaru Biidoro.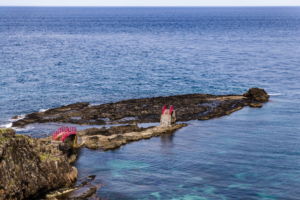 ◆ Amazing Tsugaru Biidoro Technique
It is said that the technique of Tsugaru Biidoro started around the 1st century BC.
The technique called "glass blowing" is craftworker melts raw materials at 1,500 degrees,
then blow a melted glass at a sultry temperature of 1,200 degrees, and take up on a blowing rod then blows it up.
The technique of craftsman shaking all the time the rod in the sultry heat is astonishing, and in a matter of seconds the beautiful shape of Tsugaru Biidoro are made.
The handiwork in no time is certainly a craftsmanship of glass craftsman. we recommend trying to visit once.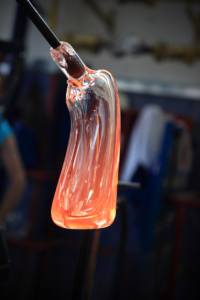 ◆ The soul of craftsman of Tsugaru that produces industrial artists and the culture of Nebuta festival
A severe climate and environment such as heavy snow which rather better to be said a heavy snowfall in winter,
and a rough and cold wind of the straits makes stronger the pride of craftsman in his craftsmanship.
On the contrary, A festival culture is thriving in Aomori.
The Nebuta Festival in August was designated as an important intangible folk cultural property of the country in 1980.
It is the origin of the military warring States of the military called the Seiitai Shogun,
and the festival in which a gorgeous float decorated with the legends of Japan and China, or historical figures, kabuki, god Buddha and etc,
parades gets crowded every year. The art of floats which decorated beautifully, and majestic also luxurious are so amazing.
They are made people called Nebutashi.
The severe and magnificent natural environment of Aomori and the historical festival culture of Nebuta emotionally stirring the pride of craftsman in his craftsmanship.
1. Glass Sake Cup Asian Skunk Cabbage
It is a Tsugaru Biidoro drinking vessel designed to represent a skunk cabbage which is lovely flowers blooming beautifully on lakeside or riverside.
You can see the beauty of handicraft and feel peaceful with the Tsugaru Biidoro.
Their cute and lovely impression of the glass for Cold sake is also recommended as gifts for a young woman who likes to drink Sake.
When you pour Junmai-shu of Aomori, you can feel the cold breeze of Tsugaru and the freshness of the skunk cabbage. You can also enjoy collecting some different colors of this too.
2. Glass Sake Cup Fresh Leaves
This Tsugaru Biidoro called "Wakaba" is a glass sake vessel with beautiful green color in which you can see fresh green and young leaves within.
Expressing the delicate and fresh colors in glass is specialty of Tsugaru Biidoro.
It would be a good idea to chill the new sake to have a few drinks. For those is still new like young leaves, for example,
as a gift to junior from seniors would be a good idea and recommended.
3. Glass Sake Cup Nebuta Festival
Nebuta Festival in Aomori is one of the three greatest festivals of the Tohoku.
This is a beautiful glass vessel of Tsugaru biidoro that romantically expresses the night scene of the festival that it is alive with floats of Nebuta Festival.
It is very popular for Japanese women with its too cute and graceful impression to use for Guinomi.
Pouring Aomori Ginjo sake with a glass server to this cup, you could picture the festival lanterns floating.
The Tsugaru Biidoro is the choice which will make you feel emotionally the beauty of glass by pouring sake.
It is also recommended as a gift for someone you care.
◆ Enjoy the cold sake with Tsugaru Biidoro in summer! You can feel the atmosphere of the Japanese festival
Tsugaru is also famous for the Tsugaru Shamisen.
In Tsugaru, it remains its own unique ethnic cultures we Japanese are proud of, such as the Nebuta Festival.
Tsugaru Biiboro is a beautiful glass that let you feel its cultures within.
The taste of sake changes with vessels. Please enjoy having the cold sake in summer with the glass of Tsugaru Biidoro.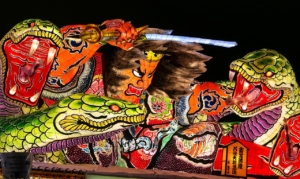 References
https://tsugaruvidro.jp/about/
http://www.geocities.jp/hwfhb259/tugarubiidoro.html
http://www.umai-aomori.jp/know/syun/201102/sake.phtml
https://ja.wikipedia.org/wiki/%E9%9D%92%E6%A3%AE%E3%81%AD%E3%81%B6%E3%81%9F#.E3.81.AD.E3.81.B6.E3.81.9F.E5.B8.AB