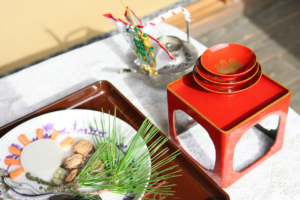 The Japanese traditional wedding according to Shinto rites sometimes can be held at a shrine.
It is where solemn and sacred man and woman swear their eternal love through god of the shrine.
During the wedding, there is a ceremony in which the couple who becomes husband and wife take sake from God with Sakazuki (sake cup) according to the manners.
This is also the reason why Japanese drinking vessel is a suitable gift to celebrate marriage in Japan.
You can find in many of Japanese drinking vessels that have got its traditional beauty, so that by choosing something traditional,
it lets you put your feelings for celebration at the same time paying homage to them.
This time we'd love to introduce some popular gifts of drinking vessels as a gift for marriage selected by each different type.
Traditional Japanese sake vessels are highly recommended as a gift to celebrate their eternal happiness.
1.Guinomi
Guinomi Sake cup is a classic drinking vessel with its casual and simple style is always loved by Sake lover.
But for such special occasion, it would be better to choose a pottery with something classy of Japanese traditional crafts.
Give Guinomi pottery pair of Japanese traditional crafts would be a great choice. For sure will be appreciated once they see its very classy looking.
For example, the gold and silver color of large-sized Guinomi sake cup from Arita ware is definitely suitable drinking vessel for something modern and luxurious celebration.
Since the Arita ware pattern is characterized by its delicate and simple shade,
it would be nice to give a try to choose a colorful one like a red, gold, silver color of Guinomi sake cup from Arita ware as a wedding gift.
Our next recommendation is Kutani ware.
Kutani is a pottery but also is said to be painting art. Even it is said "No under glazing painting will be no Kutani",
in which means that the art of Japanese painting is reflected in the pottery without hesitating. Also, green, yellow, red, purple,
and dark blue paint are used mostly which makes it the unique and classy style of Kutani ware.
Most of them describe the natural beauty such as Japanese scenery, flowers, birds, and moon.
It will be a very pleasing gift whichever pattern of Guinomi you choose.
Also, a set of Guinomi from Arita ware ou Kutani ware would be appreciated too.
A set of 5 cups is a perfect idea for couples who are building a new family.
2.Tokkuri Sake Bottle set
A tokkuri set which comes with Tokkuri and Ochoko with a message of couple's eternal and stable love would be also appreciated.
As for the Tokkuri set as a wedding gift, pottery of Japanese traditional craft is also recommended. Among Arita ware,
the Tokkuri set especially of Koimari which is old in history is very recommended for its lovely classical painting.
Arita ware is said to have influenced the famous kiln Meissen of Europe, and even now, its delicate painting and modern shade still attract people.
Next recommendation is Oribe from Mino ware which was familiarized by Nobunaga Oda who was known as very famous Samurai in the Edo Sengoku era.
Especially the Oribe transcends the beautiful shape and color tone of Japan called "wabisabi".
This Tokkuri set which is more likely an art will be perfect as a wedding gift.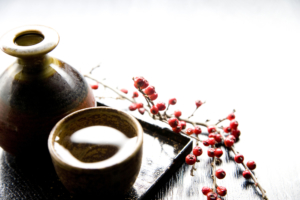 3.Cold Sake set
Cold sake set made by the beautiful Japanese traditional glass craft is also appreciated.
Especially the set of vessels with a server called "Katakuchi" made of tin from Nousaku would be very appreciated.
With the technology of the casting manufacturer Nousaku, it makes cold sake set classy.
By choosing vessel made of tin, the effect of tin iron makes a taste of sake milder.
Also, it enriches the taste of cold sake in the summer. It makes creamier than the beer foam.
Give the best cold sake set that even makes non-sake lovers into it.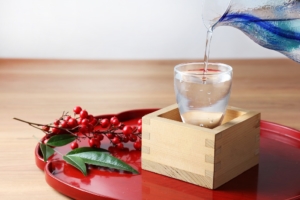 4.Sakazuki drinking glass of Mt.Fuji
The world heritage site Mt.Fuji. the famous brand for its Arita ware named Shinzen,
which the brand patronized by the Japanese Emperor also liked the painting of the Mt.Fuji.
The vessels with a motif of Mt.Fuji is also very popular in Japan.
Recommended as a marriage gift with different colors in pairs.
5.Spiced sake set
In Japan, there is a traditional custom of drinking sake with vessel set called Otoso in the New Year.
Drinking this special Sake with whole family members in the New Year is a symbol of a happy family in Japan.
It has a red color called "Jyu" which also can be seen in the shrine.
In some Otoso, you can see crane and turtle which are the symbol of the happiness colored in gold.
It is a very traditional sake vessel gift which is perfect for man and woman those who build a new home together from now on.
Vessels as a gift for marriage should be something that has got its traditional beauty.
To choose the right vessels as a wedding gift,
we advise you to choose a pottery of Japanese traditional craftwork based on gorgeousness but also modern and has got a traditional beauty on it that young man and woman can feel it.
The vessels with traditional beauty reflect the eternal beauty of man and woman cultivating their love.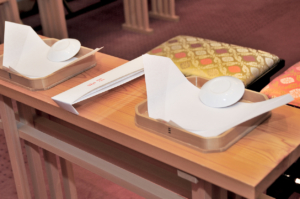 Reference https://shikinobi.com/yakimono#04-5