nousaku
In the hot summer, cold Sake refreshes you, and in the winter, hot Sake for warms you. One of the delights of Sake is it can be enjoyed in all of the season. Of course, there are other delights Sake brings, such as indulging in Sake from a sakazuki with your loved ones and great friends. But wouldn't it be even more delightful to elevate the evening Sake, by incorporating a sophisticated sake vessel? In this post, we will introduce the highly popular and elegant tin sake vessel, Nousaku series.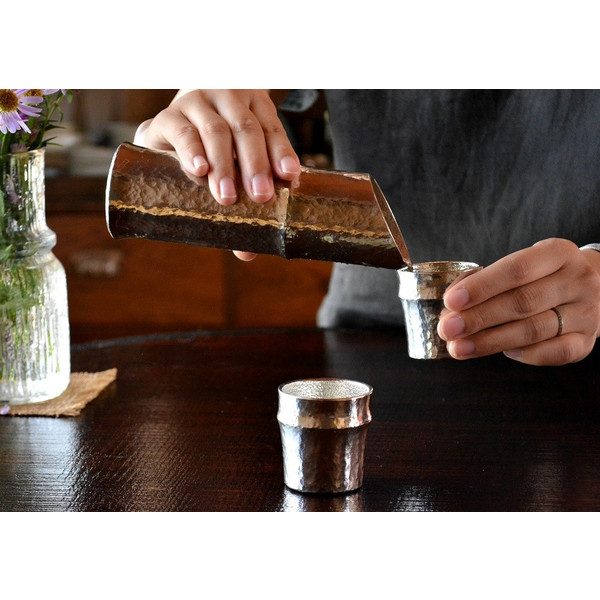 What is Nousaku?
---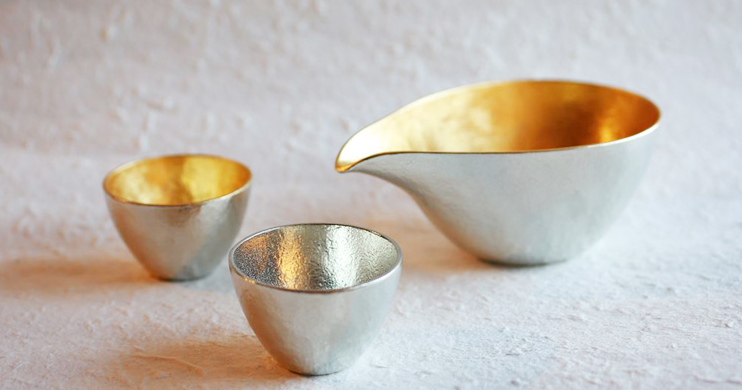 It is a brand of Nousaku Corporation in Takaoka City, Toyama Prefecture. From 400 years ago, the traditional industry of casting and its techniques have been developed, passed down through time yet still very alive in Takaoka City, Toyama Prefecture. With some of the techniques unable to be replicated by machines, there are parts that are still done by hand, by the skilled craftsmen.
The specialty of their tin is in its 100% purity. This pure 100% tin is so soft, women can easily bend it and craft their tin. Taking advantage of the softness, anyone can enjoy the sophisticated shapes of their tin.
Tin Sake Vessels
---
Looking at the history of tin, we find that during the Heian period in Japan, Sake was drunk in the palace, using tin sake vessels. We can see historical evidence in the compatibility of Sake and tin, traced back to the Heian period.
Tin sake vessels mellow the taste of Sake, erasing any harshness or other unfavorable sensations. With tin's antibacterial and thermal conductivity strengths, from the olden days, tin has been used in religious ritual tools as well as sake vessels.
It is well known for its anti-corrosion metal, an important aspect for items we touch with our mouths! For this and other reasons, Nousaku products are known and loved as auspicious gift items.
Recommended 5 products
---
1. Nousaku Tin Sake Set Gold
2. Nousaku Tin Sake Cup Sakazuki Set Gold
3. Nousaku Tin Kuzushi Yure Gold (Small)
4. Nousaku Tin Sake Set Bamboo
5. Nousaku Tin Sake Warmer Chirori with Lid
How to clean

---
How to clean tin sake vessels:
*after use, wash with a medium strength dish detergent
*if the tin loses its shin, please polish with baking soda
*do not use in microwave
*do not use in dishwasher/dish-dryer
*continuous bending may cause cracks and other damages
*be cautious of burns when placing hot items in the sake vessels