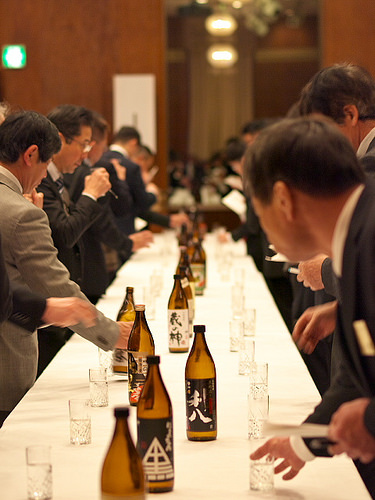 As described in Aromas and Flavors to Describe Sake Page, you can roughly describe the characteristics of sake by using 4 words (rich & clean, and moderate and fragrant) to explain the strength of aromas and the strength of flavors.
Now, what kind of words should we use to describe the sake more concretely? The easy way is to liken the aromas and flavors to something else. For example, Daigin-jo and Ginjo with low rice polishing ratio is often floral and fruity on the nose, but you should go further explaining if that fruity aroma is like banana, grapefruits, peach, etc. The following table is the list of some descriptive words used by sake sommeliers.
There is a word used by sommeliers of Japanese sake.
There are certain words that we use once in a while, although we can't say for sure what they exactly mean.
Since these words are often used in the description of products when purchasing sake, our hope is that you will learn some of these words, and that it will lead to you being even more interested in sake. We also hope that it will help you choose the sake that best suits your taste when purchasing.
DESCRIPTIVE WORDS FOR AROMAS
| | | |
| --- | --- | --- |
| Fragrant | Flower | cherry blossom, ume, violet, lily, tulip, lavender, fragrant olive, orange flower, sweet pea, cyclamen, etc. |
| | Fruit | apple, pear, banana, melon, muscat, peach, lychee, mango, fig, etc |
| Fresh | Flower | camellia, wisteria, sasanqua, gentian, chrysanthemum, etc |
| | Herb | lemongrass, mint, thyme, rosemary, green tea, maccha, peppermint, chamomile, |
| | Fruit | grapefruit, orange, lime, lemon, cherry, green apple, strawberry, kiwi, citrus, |
| | Vegetable | watercress, honewort, etc |
| | Tree | bamboo, bamboo leaves, pine needles, cedar |
| Moderate | Mineral | mineral, coal, stone, earthy, |
| | Vegetable | chinese radish, carrot, butterbur scape, corn marigold, chinese cabbage, radish, asparagus, olive, etc |
| | Tree | pine, cedar, maple tree, dead leaves, mushroom, oak, beech, |
| | Nuts | pine nuts, peanuts, chestnut, ginkgo nut, sesame, etc |
| Savory | Grain | ears of rice, white rice, buckwheat, small (azuki) beans, corn, steamed rice, rice cake, etc |
| | Nuts | almond, cashew nuts, coconuts, cacao, walnut, etc |
| | Spice | cinnamon, vanilla, nutmeg, ginger, turmelic, caraway seeds, |
| | Dairy Products | milk, thickened cream, sour cream, butter, yoghurt, custard, marshmallow, etc |
| | Ageing | honey, maple syrup, sherry, kelp, dried shiitake, sponge cake, green laver, |
How was it?
Some words may have been exactly like you imagined, whilst there were some that surprised you.
Try using these words when discussing with Japanese people about sake.