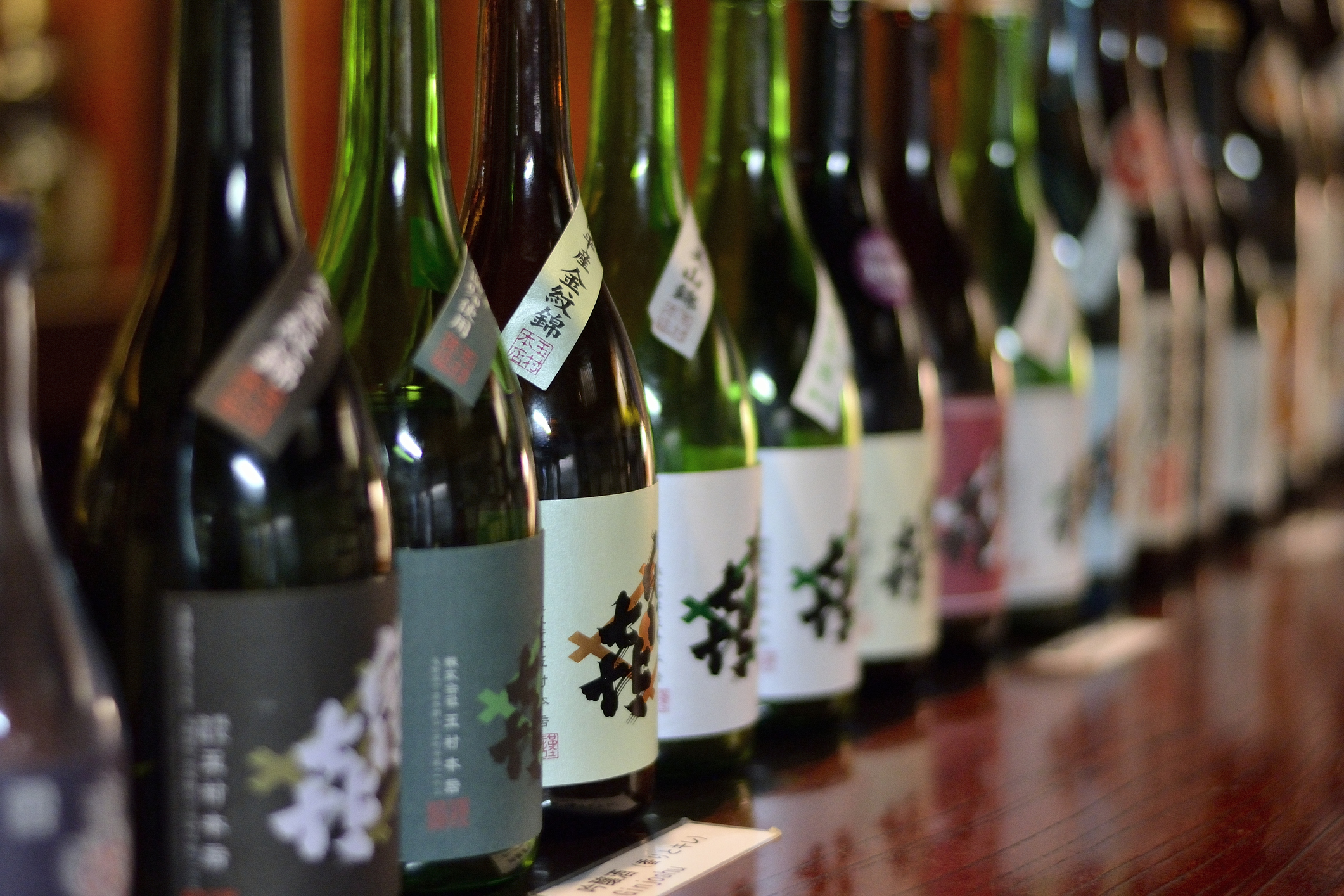 Happy New Year's everybody! We hope for your continued support of SAKETALK.
It's January, and of course that means the main focus is the New Year.
We're sure that also means that you want to drink sake at this time.
Not only that, but that also means you want a light snack with the drinking.
We selected items that we want you to try!
We hope you enjoy this month's issue.
Saketalk will start selling Japanese sake on a monthly basis this year. We will hand select 3 to 4 types of Japanese sake, snacks, and sake vessels every month, so you can purchase any and as many favorite combinations as you like! Until now, we had been selling sake vessels and introducing sake and vessels separately, but our challenge this year is to try doing it together! We'd like to introduce sake that matches the season such as new sake for winter, summer sake for summer, hiyaoroshi for autumn,etc., and different types of sake from the same brewery such as rice ginjyo and honjozo.
Sake
Koshinokanbai Regular sake [Sake Niigata 1800ml]

A classic and renowned sake. It is crisp and powerful with a lingering aftertaste and a refreshing feel. The quality of the sake is good with no distractions just like water, and it is a liquor that is refreshing and fragrant, with a sort of "roundness" and a nice aftertaste. The sincere attitude of the brewery is alive and well in the sake.
It is a sake that you can't put down. Be careful not to drink too much!
Gekkeikan Special Selection Horin Junmai Daiginjo [Sake Kyoto 720ml x 1 bottle]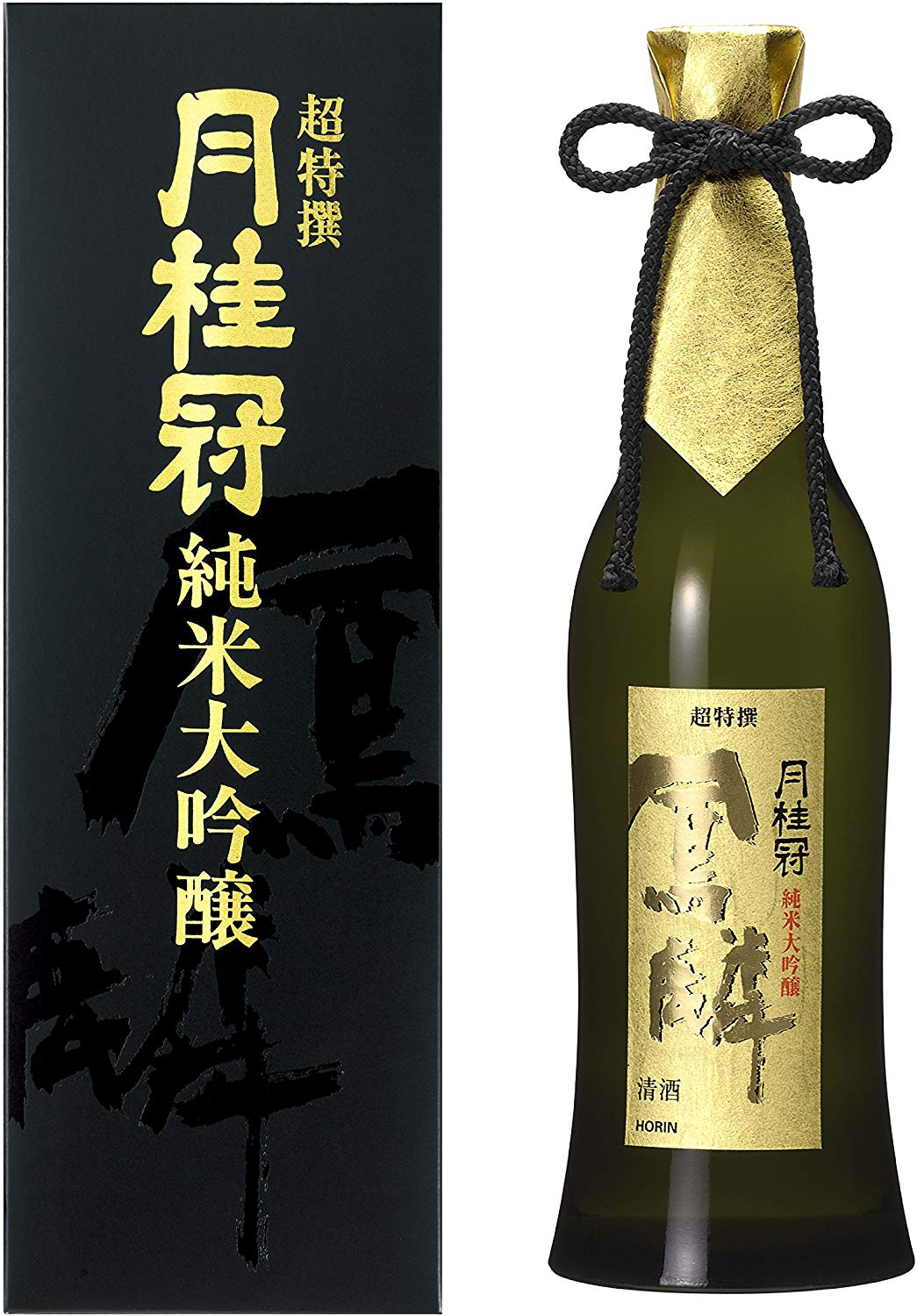 "Yamada Nishiki" and "Gohyakumanseki", both very good rice for making sake, were polished to a polishing rate of 50%, and fermented slowly at low temperatures. It is a pure junmai daiginjo of the highest class that boasts a gorgeous scent a smooth taste. It is the perfect gift as it is a 720ml bottle in a case, so it can be used for formal presents. It has won the Gold Award for the Monde Selection for the fifth consecutive year.
It is definitely worth the price.
Takarashuzo Mio GOLD Sparkling Sake [Sake Hyogo 750ml]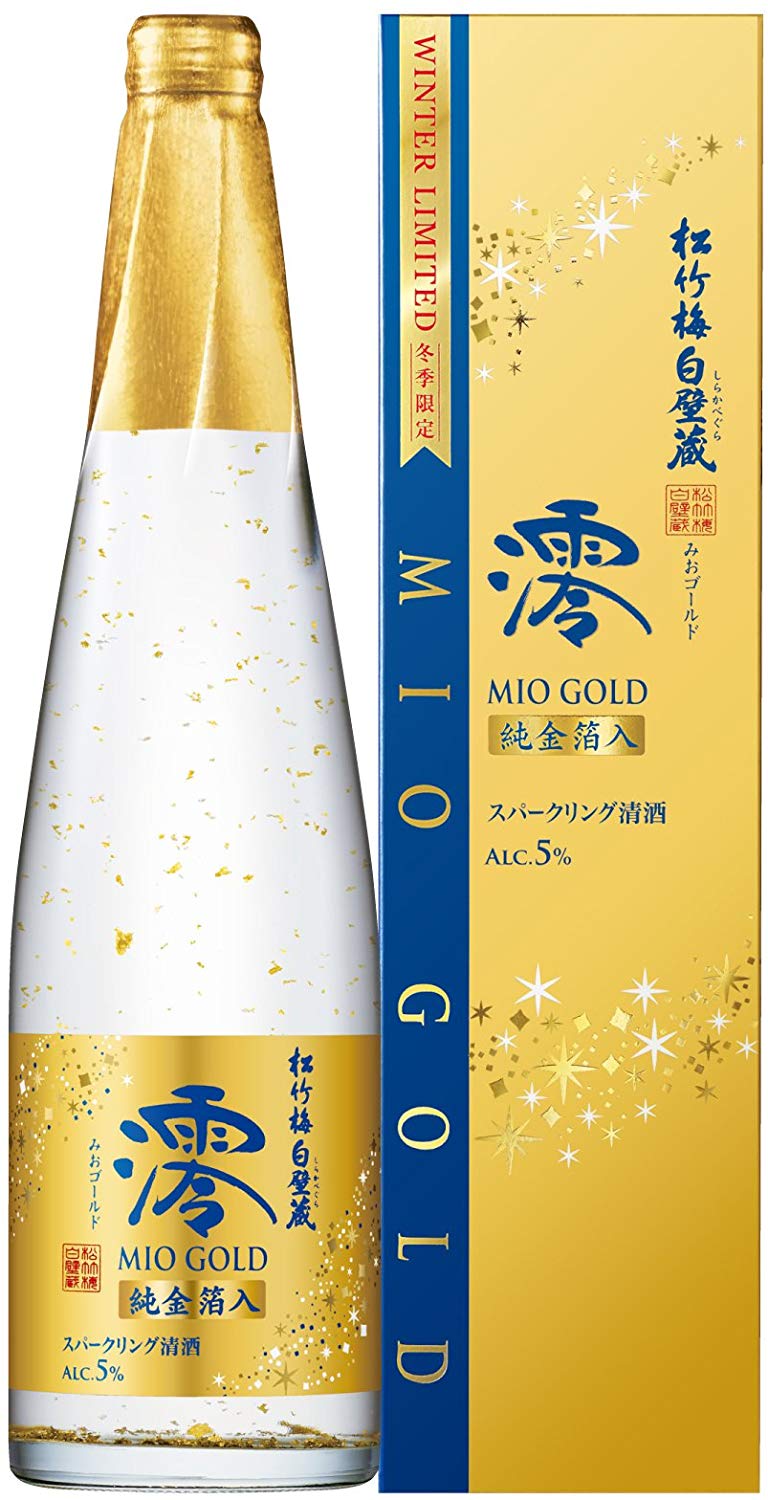 "Gold 'Mino'", a limited time sake for the end of the year with gilt included, which is sure to be the topic of the party. It is a limited edition which livens a party with its gilt elegantly flowing with the bubbles. It comes in a glittering carton that is perfect as a gift for both people who know and don't know of "Mino". A new type of sparkling sake with refreshing bubbles, that is comfortable and easy to drink with an alcohol content of 5%.
It is glittery and very pretty, so it may be a good sake to whip out when drinking with a lady.
Appetizers
Ezaki Glico Pretz Salad 143g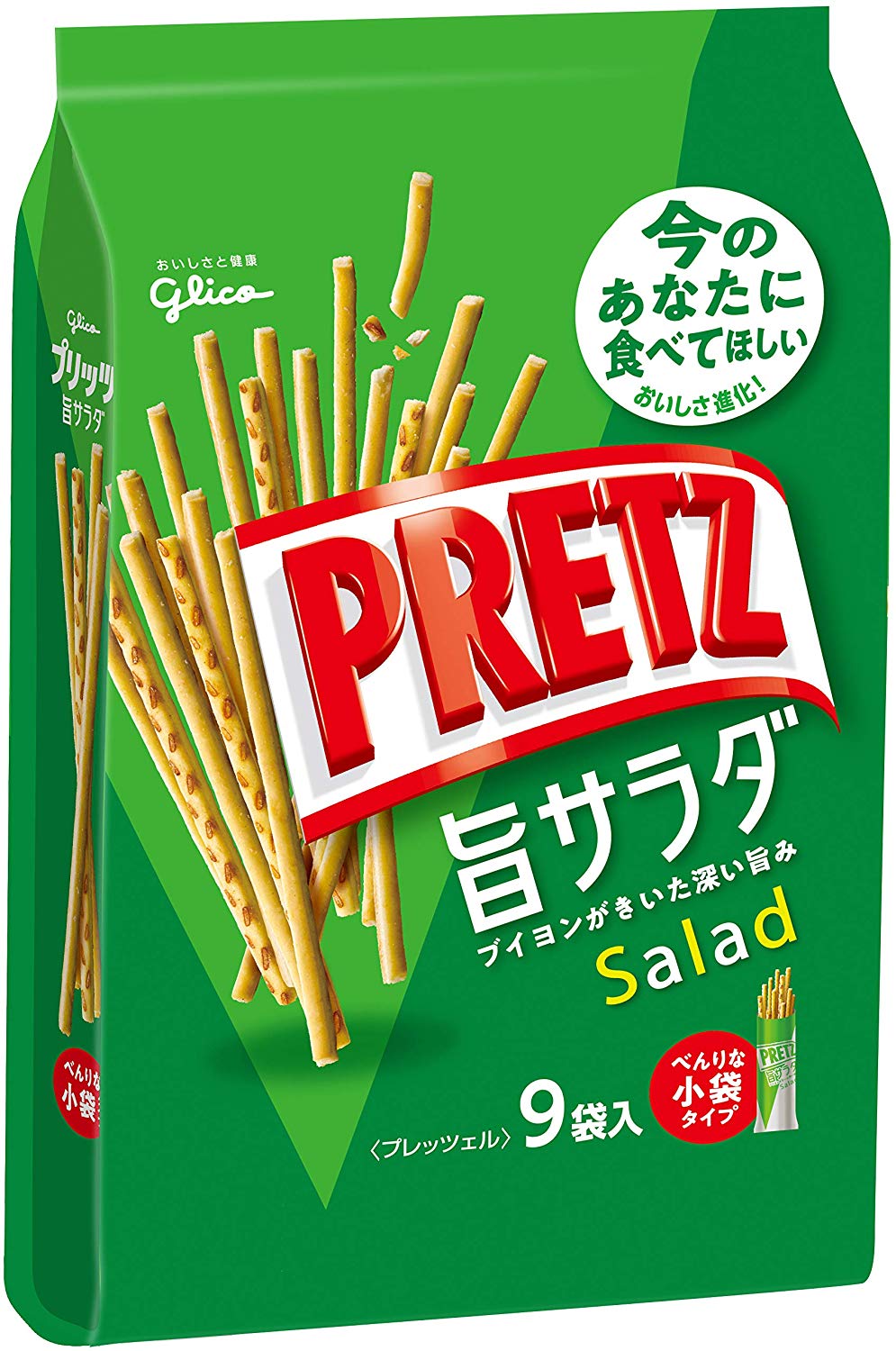 Regarding health, it contains about 0.49g (per bag) of dietary fiber derived from wheat, so you can eat is as a light snack, and consume 10% of your daily requirement. As for its taste, they adopted fine particle powder that makes it easier to bring out a delicate taste, and enhanced the taste (rich umami × perfect saltiness). It is now made with finer seasoning to keep your hands clean.
It is a snack that matches any type of sake.
It is also easy to eat because it doesn't get your hands dirty.
Riska Moist Strawberry 70g x 3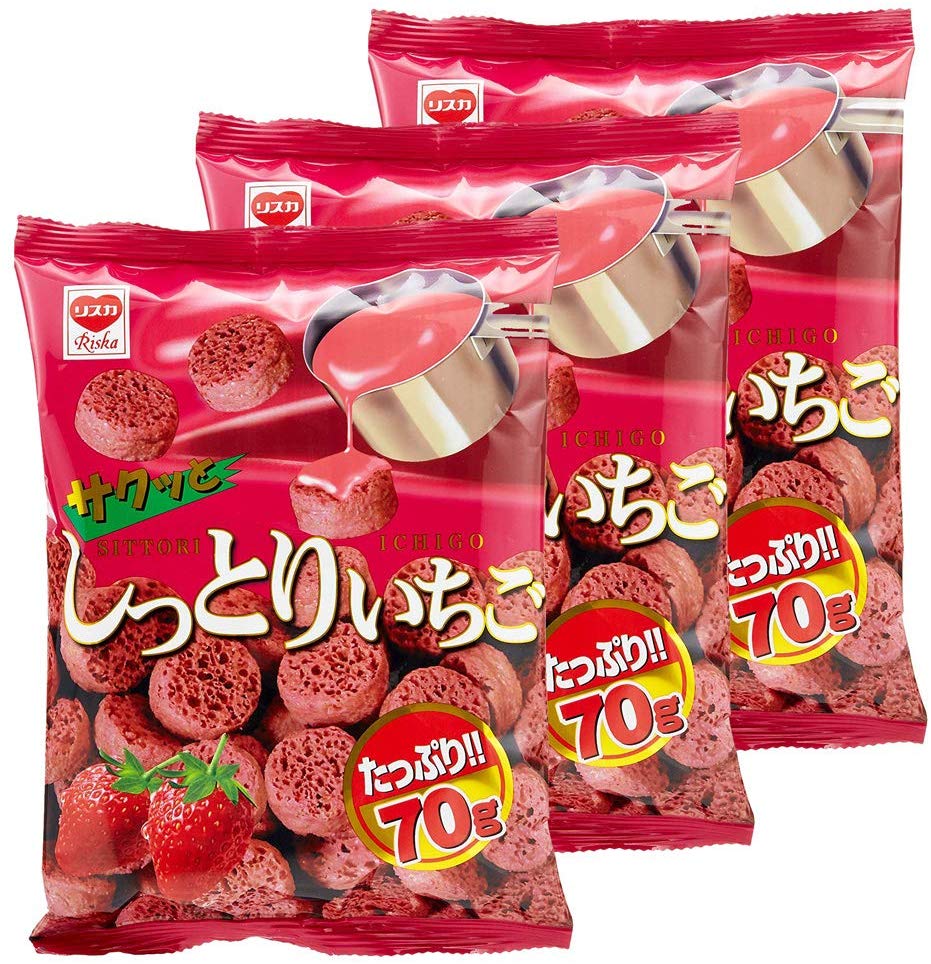 A product that gently soaked a mild strawberry chocolate into crispy corn puffs. It is a snack
that will surely grab the hearts of sweet-lovers, with a taste of mild strawberry chocolate that
oozes out.
It will match dry sake as its mildness will balance out the flavor.
From its texture to its flavor, you won't be able to stop with just one.
Definitely give it a try!
Calbee Grand Jagabee Smoked cheese flavor 38g x 3 bags
You can enjoy the smell of smoked cheese that fills your mouth.
What do you think of when you think of cheese?
Definitely sake right!
If you didn't know of this perfect combination, then please give it a try.
Its compatibility may just blow your mind.
This product has a cheese flavor, so there is no way it won't go well with sake. Try a bite.
Sake vessels
Kutani Ware Sake Set Plum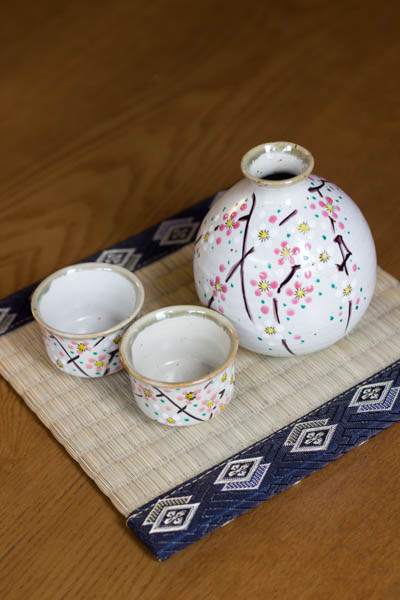 This is a set of two bottles of Kutani ware – tokkuri and ochoko.
Kutani ware is made in Kanazawa, Komatsu, Kaga and Nomi in Ishikawa Prefecture. "Kutaniyaki" refers to vessels that were overglazed in Kutani. Overglazing is a technique of drawing a pattern with a colorant on a baked ceramic glaze and baking again. The overpainting features are stunning color effects and graceful patterns.
As we are celebrating a new year, we chose a spring-like cherry blossom pattern for this month.
There is an elegant cuteness, so if you use this sake vessel, you will also be able to enjoy sake with your eyes.
Kutani Ware Hello Kitty Sake Cup
This is a Kutaniyaki ochoko with a Hello Kitty design.
With the design of the world-famous Hello Kitty, all fans would surely love to collect all types.
A Hello Kitty drawn within the Japanese design, a Hello Kitty wearing a Kimono…
It will surely make a great gift for women that love sake!
Its cuteness will make the sake taste good as well.
Mino Ware Tokkuri Server Green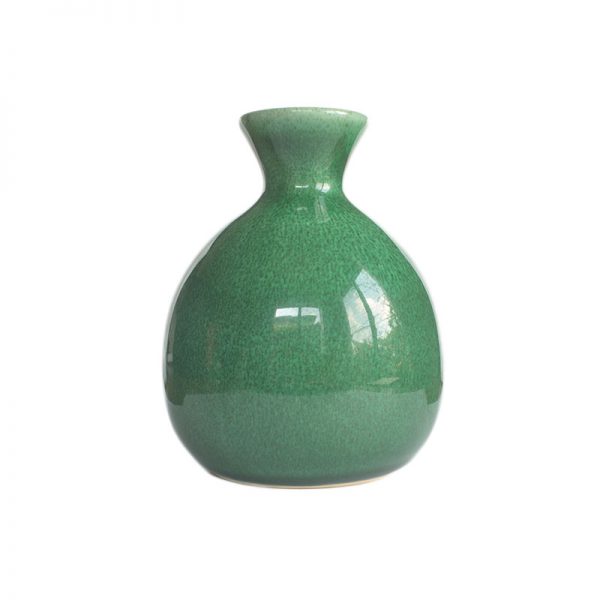 It is a beautiful green, Mino-yaki sake vessel.
Minoyaki is slightly different from other pottery production areas, such as Kutani, Kyoto ware, Arita ware, Shigaraki and Bizen, and does not have a single pottery style. The easiest way to describe it would simply be vessels that are baked in Mino.
Mino is an area where a wide range of potters, writers, mass-production factories, and many other people who make vessels are active.
Tokkuri made in such as high-level area should definitely help make the taste richer, and bring about a calm and relaxing atmosphere.
How was it! We think that our selection for this month suits both those of you who would like to begin trying Japanese sake from this year, and those of you who want to try different Japanese sake every month. Please do choose your favorite combination!
So, what do you think of this month's special? We hope that those of you who want to try Japanese sake from this year, as well as those of you who want to experience different Japanese sake every month found it interesting. Please do pick the combination you like and try Japanese sake!