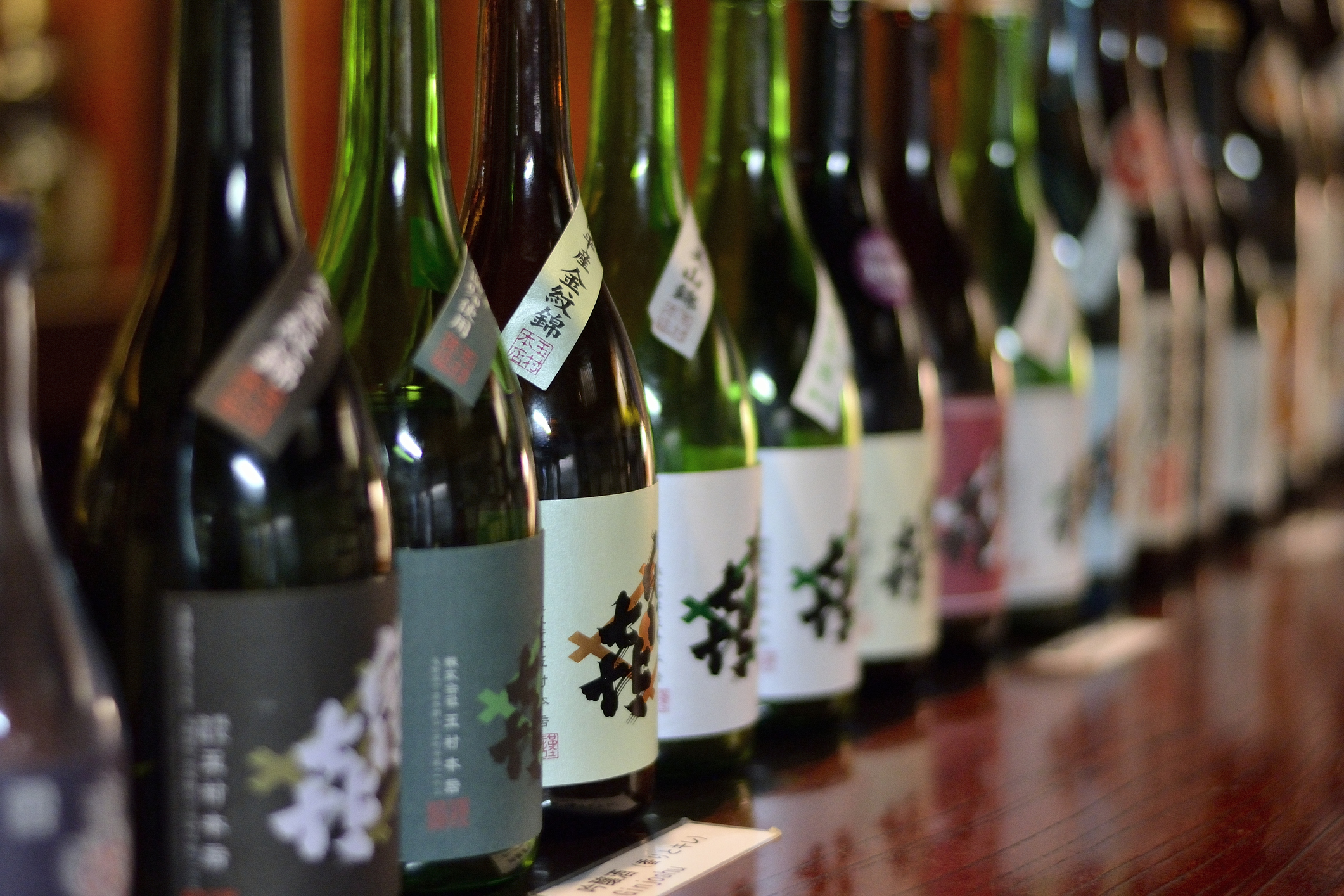 How were last month's products?
In Japan, June is the rainy season, and it is when there are frequently rainy days.
We would like to introduce products which you can enjoy, even when such rainy days make you hesitant to head outside.
Saketalk will start selling Japanese sake on a monthly basis this year. We will hand select 3 to 4 types of Japanese sake, snacks, and sake vessels every month, so you can purchase any and as many favorite combinations as you like! Until now, we had been selling sake vessels and introducing sake and vessels separately, but our challenge this year is to try doing it together! We'd like to introduce sake that matches the season such as new sake for winter, summer sake for summer, hiyaoroshi for autumn,etc., and different types of sake from the same brewery such as rice ginjyo and honjozo.
Sake
Jozennyosui Junmai Ginjo [Sake Niigata 720ml]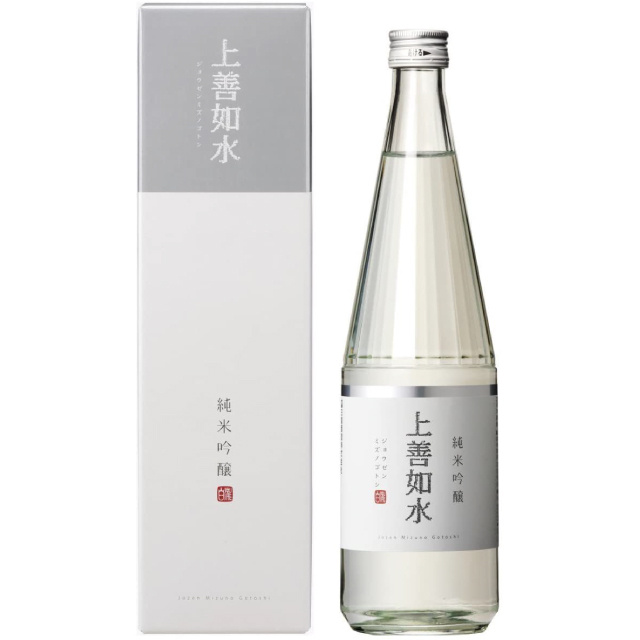 Junmai Ginjo sake that uses a high-ester production yeast with a gorgeous aroma.
Light taste and gorgeous fragrance like fresh fruit. The mellow finish of junmai. It can be deliciously combined with any dish.
A very easy-to-drink sake for beginners.
Raw materials and ingredients
Specific name Junmai Ginjo Sake sake degree +5
Alcohol content 14 degrees or more, and less than 15 degrees
Acidity 1.3
Amino acid degree 1.5
Ingredient name Rice / Malt (100% domestic rice used)
Rice polishing rate 60%
Taste Refreshing
Aroma Elegant
Sweet or dry Dry
Kubota Manju Junmai Daiginjo 720 ml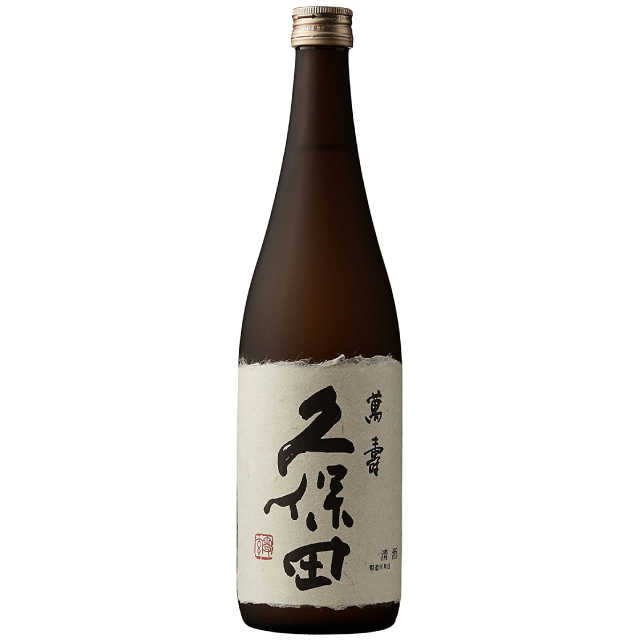 A sake that represents Kubota and is a representative sake of Niigata Prefecture that you should definitely try once. It is the highest quality of the "Kubota series", which the brewer exquisitely produces in terms of both aroma and taste. It has a soft texture and a harmonious taste, and a strong presence even when it is lightly cooled or slightly heated. It is recommended to drink cold to enjoy the fruity and pure flavor. At around 10 degrees Celsius, pour into a thin porcelain or small wine glass.
This fruitiness matches the shrimp senbei.
Raw materials and ingredients
Rice, rice malt
Suigei Special Junmai Sake bottle 1800ml [Kochi Prefecture]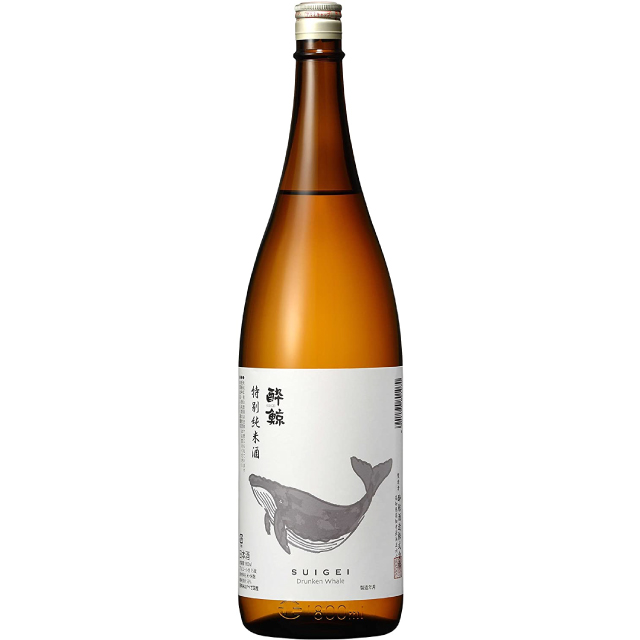 In order to bring out the qualities of the ingredients, the rice was polished to 55%. The characteristics of raw rice differ depending on the origin and variety. We carefully check these characteristics and managed the preparation and mash. Malt-making is done with the aim of making strong malt, and it is brewed slowly at a low temperature with the source water from Kagami River and Kumamoto yeast. After squeezing, it is stored in a low temperature tank and bottled according to the shipping volume.
Raw materials and ingredients
Rice, rice malt
Appetizers
Niigata Souvenir Nanban Shrimp Senbei (Domestic Travel Japan Niigata Souvenir)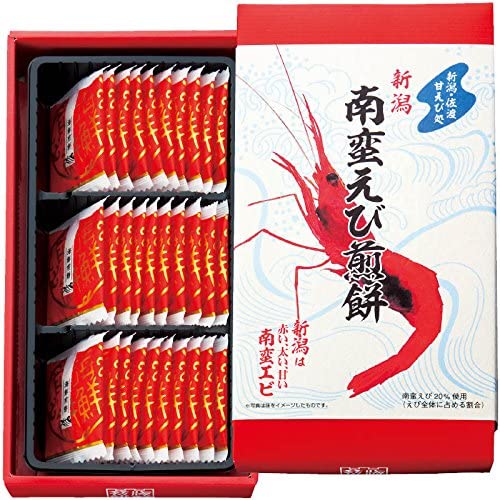 Sweet shrimp from the Japan Sea is kneaded into a rice cracker dough and baked crisply.
The flavorful aroma will spread throughout your mouth.
The flavor and texture will definitely become addicting.
[Contents / weight] 30 pieces
[Size] 1 box size approx. 32 x 17 x 6 cm
[Allergy-specific raw ingredients included in the product] Egg, wheat, shrimp
Yuraku Seika Black Thunder 1 piece x 20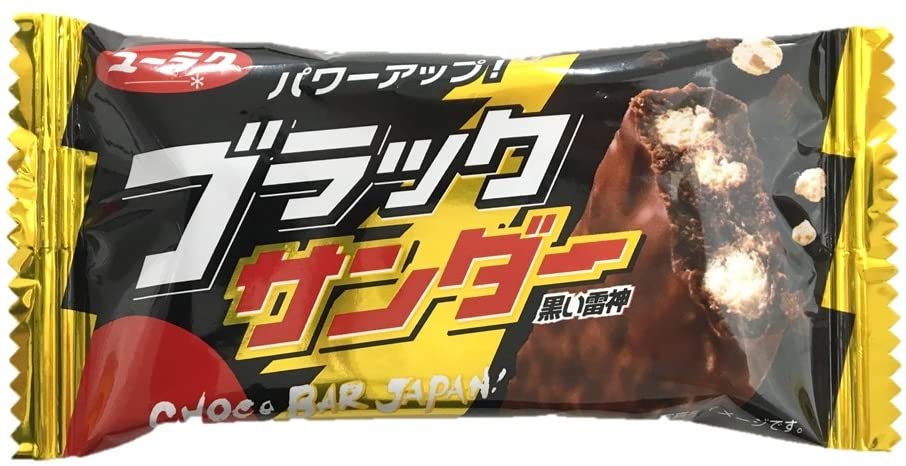 A product in which black cocoa cookies and hard biscuits are coated with chocolate. It is a cookie-based snack that matches the bitterness of cocoa with the sweetness of chocolate.
Nutritional ingredients
115 kcal per bag
Per 1 bottle (standard 21g): Calories 110kcal Protein 1.3g Fat 5.6g Carbohydrate 13.6g Sodium 68mg
Content: 21g x 20
Calories: 110 kcal
Ingredients: Cocoa cookie, sugar, vegetable oil, wheat flour, skim milk powder, whole milk powder, lactose, cocoa powder, cacao mass, shortening, salt, whey powder, sweetener (sorbitol), leavening agent, emulsifier, egg shell calcium, flavoring, (soybean partly included)
Product size (width x depth x height): 100 mm x 145 mm x 116 mm
Yoshimatsu Curry Bins [130g / About 25 bags] Commercial Sweets Individually Wrapped (ideal for snacks) Fava Bean Curry Spice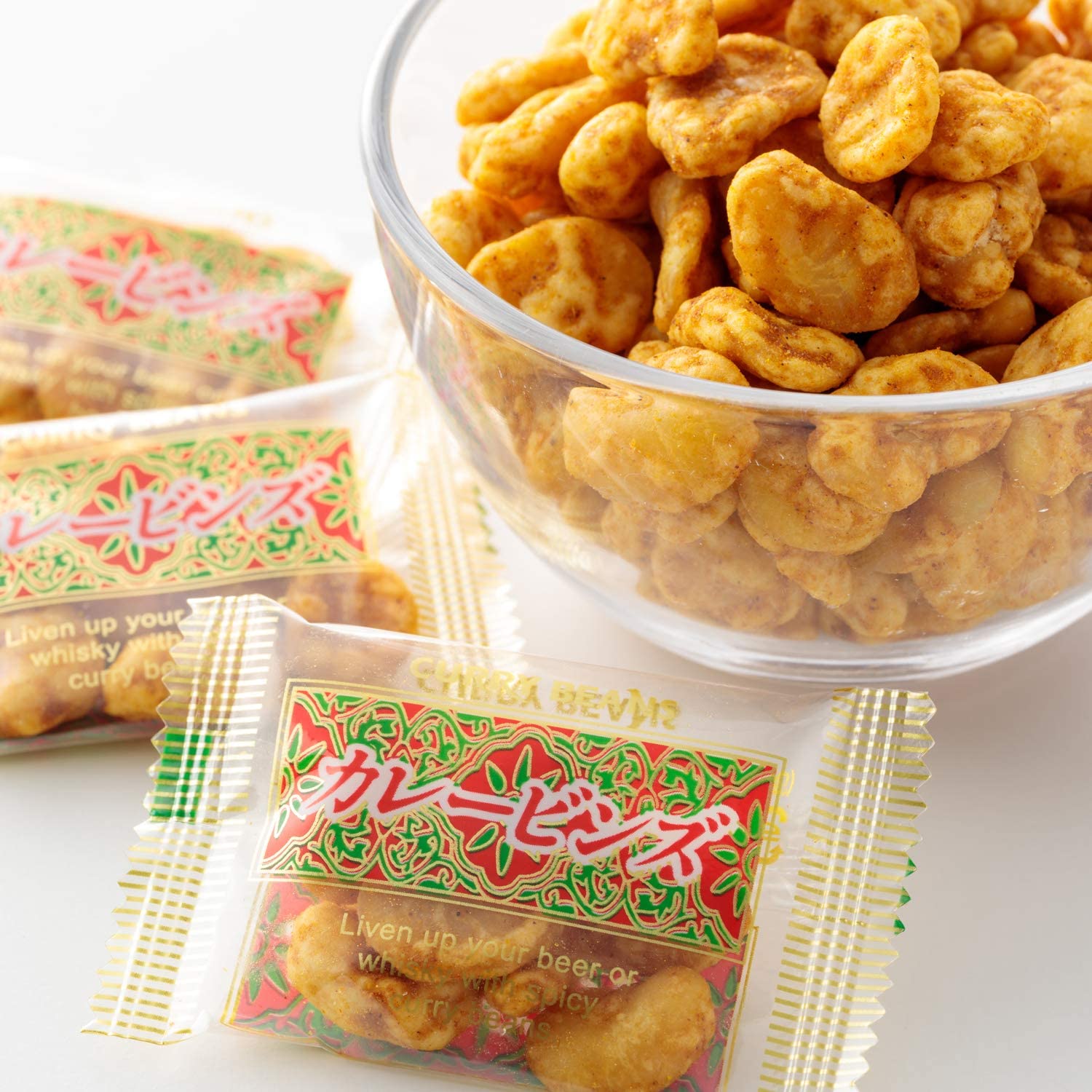 [Thorough pursuit of spicy flavor] To prevent the spicy essence from diminishing, we simply sprinkled on some curry powder. We made it possible to enjoy a "spicy flavor" with the full understanding that it could make your fingers dirty
[Exquisite balance of sweetness and spiciness] The sweetness of the lava beans and the exquisite balance of curry spices will definitely have you reaching for more! Perfect snack for beer, shochu high, sour and highball.
[Curry beans by accident] Around 1965-1974. A skilled confectioner who worked under the 3rd generation president of Yoshimatsu accidentally drops fried beans that he is working on into curry powder, and when he takes them out in a hurry, the beans were wrapped in the delicious scent of curry! Since then, the snack was complex after thorough research on the composition of the curry powder and other glaze powder.
[Easy-to-eat subdivided packaging] Subdivided packaging that makes it easy to eat.130g mini pack version with a small amount, so if you're curious about what it tastes like, please give the various flavors a try.
Raw ingredients
Fava beans, vegetable oils and fats, sugar, starch, wheat flour, seasoning powder, curry powder, salt, onion powder, pepper, seasonings (amino acids, etc.), leavening agent, acidulant,
Allergen display
Some of the raw ingredients contain soybeans, pork, chicken * This product manufacturing plant produces products containing milk, peanuts, and shrimp.
Sake vessels
HOME/SAKE SET Sizzle Sake Set【3colors】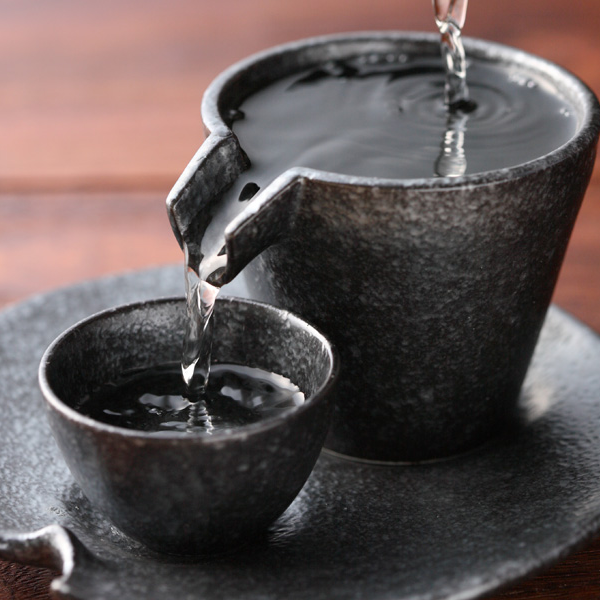 Pour cold Sake into Sizzle Sake server to the rim, and it overflows into the ochoko. It might remind you of Shishi Odoshi- the Japanese traditional bamboo fountain tube that's filled with water and tips to make a gentle knocking sound.
Give ear to the trickle, and It'll immerse you with the traditional Japanese atmosphere. By exposing Sake to the air, Sake aroma opens up, making your Sake even better.
A saucer is also attached to receive any Sake that may be overflown from the Sake cup. It can also serve as a side dish plate. The notch on the saucer is for a chopstick rest.
Recommended for cold Sake like Ginjo and Daiginjo.
Size
Sake Server: 90×80×70mm (3.5×3.1×2.8′)
Ochoko Cup: 58×58×35mm (2.3×2.3×1.4′)
Saucer: 150×150×20mm (5.9×5.9×0.8′)
Material: Porcelain
Microwave: OK (only for heating)
Dish Washer: OK
Made in: Gifu, Japan
Edo glass Yachiyo-Gama Sake Set【Paper Boxed】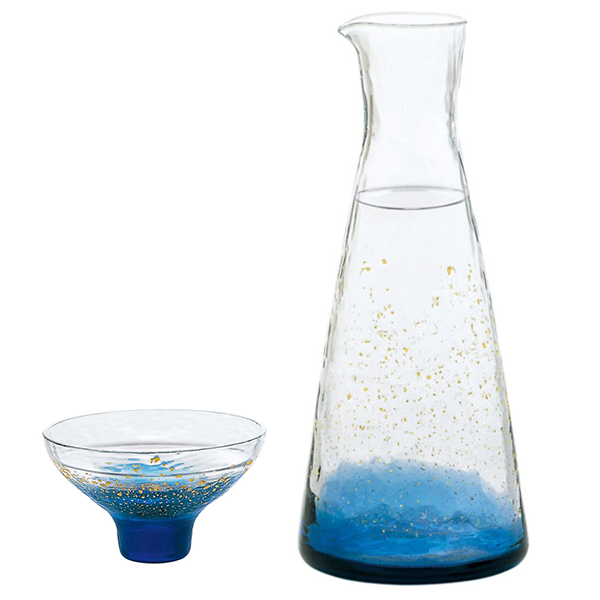 Product Details of Edo glass Yachiyo-Gama Sake Set
The Yachiyo-Gama Tokkuri was created by the techniques of Edo Glass, a designated Japan Traditional Craft.
With the highlights of refreshing blue, it can be said this tokkuri is the perfect sake vessel to enjoy cold sake.
The design brings a sense of coolness, so before savoring the flavors, let your eyes drink in the coolness.
Pouring in some karakuchi, dry, Sake, the temptations of the deliciousness induced by your eyes can be quickly satisfied.
In addition to the material, colors, Japanese tokkuri have the unique characteristic of being less round. Resembling more of a straight line, the design suggests it is more appropriate for a cold sake than a warm sake.
The manufacturing methods of Edo Glass involves wrapping the molten glass around the iron, with the skilled craftsmen forming the shape.
Being created by hand, even if the same series is purchased, neither the design nor the colors of two pieces will be completely the same.
For Sake lovers who want a one of kind-only one sake vessel, we recommend this product.
A sense of luxury can be felt from the gradation from the deep blue, the gold specks scattered like stars. This sake vessel set is a respectable gift item as well.
A sake vessel set for a variety of different people. Sake lovers who appreciate Japanese traditional crafts or those who just love beautiful items. It may also be given to those who you would like to take an interest in Japanese culture. Many options with this sake vessel set.
Content: 1 Tokkuri Flask and 2 Sakazuki Cups
Capacity:
Tokkuri Flask: 300 ml (10.2 oz)
Sakazuki Cup: 120 ml (4.05 oz)
Size:
Tokkuri Flask: φ38mm×H175mm×W75mm
Sakazuki Cup: φ95mm×H53mm×W95mm
Material: glass
Kikichoko Glass AROMA【Paper Boxed】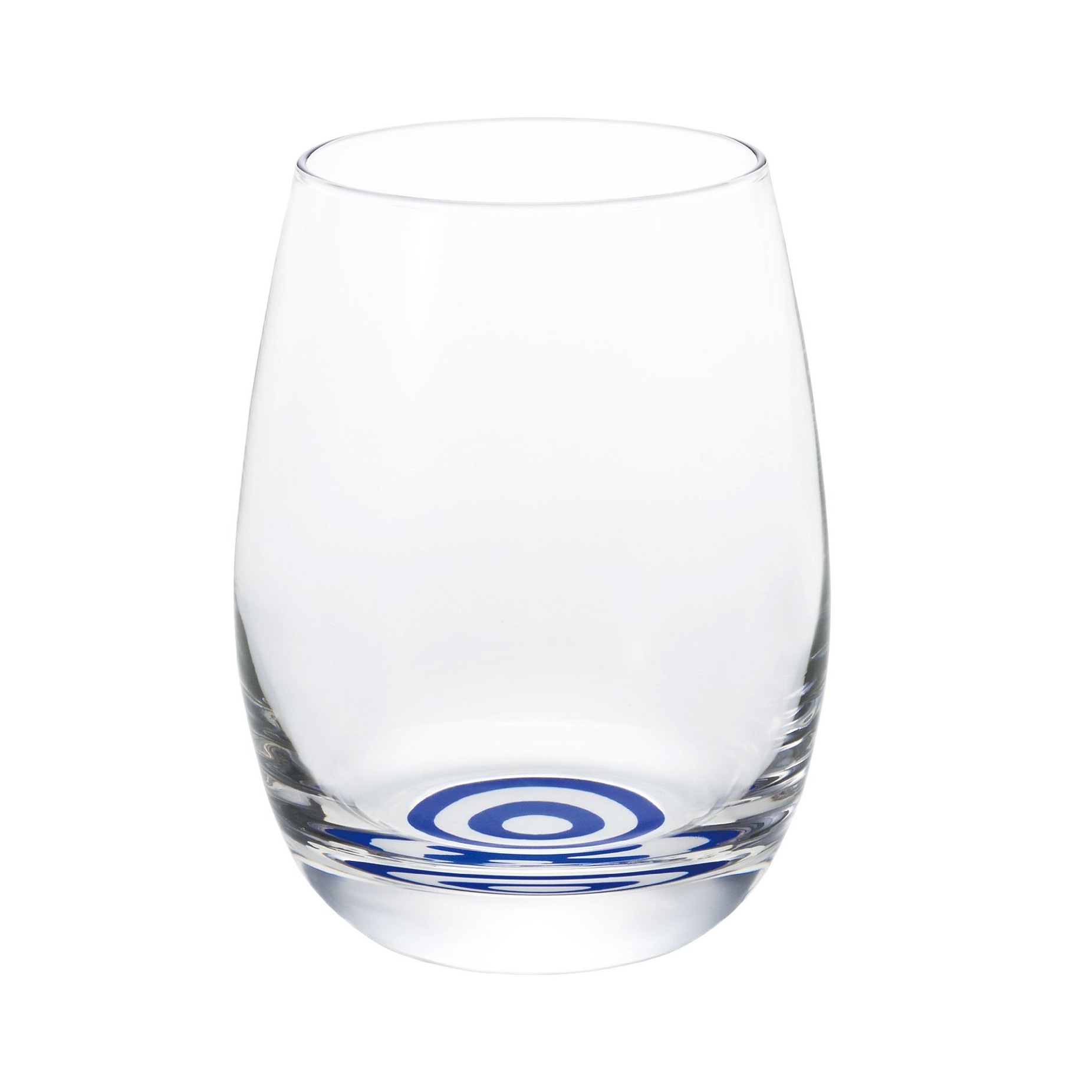 Kikichoko (aka Janome Ochoko) with the blue circles at the bottom of the cup is one of the most-known ochoko cups. It's the one used for Sake tasting by Sake sommeliers.
Kikichoko tasting cup is known to be made from porcelain, but now here comes the glass version!
There are two types – FLAVOR type and AROMA type.
Kikichoko Tasting Sake Glass AROMA comes in a bowl shape. This wine-glass-like shape enables you to sniff out the aroma of Sake directly from the glass. The shape also allows Sake to spread in your mouth to enjoy the complex flavor of Sake once you drink. Especially recommended for Sake enthusiasts.
The blue circles at the bottom is called Janome. Janome literally means 'Snake eye'. It's called Janome because the two blue circles inside the cup look like a snake's eye. These circles are used for checking the quality of Sake.
The white parts are for checking the 'transparency' of Sake, while the blue circles are for the gloss of Sake.
The name, Kikichoko stems from two words – 'Kiki' (tasting) and 'choko' (Ochoko /Sake cup). Therefore, the name literally means 'Sake tasting cup'!
Check out Kikichoko Glass Comparison Set for first-time customer!
Product Details of Kikichoko Tasting Sake Glass AROMA
Size: H90 x W55 mm (H3.5 x W2.2)
Capacity: 220ml (7.4oz) Recommended to serve 90-120ml (3-4oz)
Material: Glass
Made in: Tokyo, Japan
How was it! We think that our selection for this month suits both those of you who would like to begin trying Japanese sake from this year, and those of you who want to try different Japanese sake every month. Please do choose your favorite combination!
So, what do you think of this month's special? We hope that those of you who want to try Japanese sake from this year, as well as those of you who want to experience different Japanese sake every month found it interesting. Please do pick the combination you like and try Japanese sake!